Welcome to the Steppe Oak Woods of Nagykőrös!
One of the last remnants of steppe woods on the Great Hungarian Plain is to be discovered!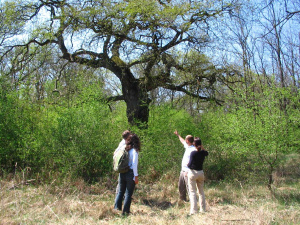 Several hundred year-old oak giants, spring carpets of blossoming Lily of the Valley, a variable mixture of woods and grasslands of unique species diversity welcome the traveller in Nagykőrös woods. The mosaic habitat formed of sand oak forests and sandy grasslands steppes called steppe oak woods gives home to many rare and protected species.
On our website you can find more information about the curiosities, flora and fauna of the Nagykőrös woods, the threats to sand oak woods and the possibilities of their conservation. Explore the Steppe Oak Woods of Nagykőrös virtually with us on this website, and visit them also in reality.
Nature conservation project
The mosaic of oak forests and sand steppes located near the town of Nagykőrös – belonging to the Natura 2000 Network as a special area of conservation (pSCI) - is the largest sand steppe woodland on the Great Hungarian Plain, remaining in its natural status. Thanks to the grant awarded from the LIFE-Nature Fund of the EU, a comprehensive conservation project has been implemented on the Steppe Oak Woods of Nagykőrös nature conservation site between 2006 and 2011. Download the Layman's report>>
As a result of the project the conditions for long-term preservation have been ensured. Habitat restoration works have been implemented on the steppe oak woods and Pannonic sand steppes, the habitats of community interest that served as a basis for the Natura 2000 designation of the site. We have presented the activities and results of the project
on this website.